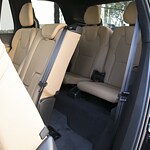 Volvo XC90 turns heads wherever it goes, bespeaking refinement, power and trend-forward styling. Beyond its beauty, XC90 has major brawn that keeps it atop the list of the industry's most popular luxury SUVs. Take the following performance features selected by our Volvo Cars Annapolis team.
Manual-Auto Hybrid Transmission
If you've ever wanted the best of both worlds, Volvo XC90 Geartronic Transmission provides the opportunity. It fuses automatic, electronically controlled precision with the classic clutch-feel of paddle shifters located near the wheel. The shifters offer tactile, lag-free gear-shifting, while the automatic portion of the transmission keeps gear ratios and power delivery at optimal levels.
Adjustable Power Steering
Now you can adjust the amount of power steering Volvo XC90 provides at different driving speeds. With selectable low, medium and high steering assistance, XC90 adds more or less power steering assistance to suit your unique driving style and comfort.
See how all of Volvo XC90's performance features work in real time with a test drive at Volvo Cars Annapolis today.