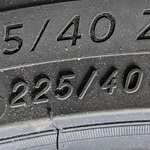 Here at our dealership, you can count on us to do more to keep you and your passengers safer during your travels. One way in which we do this is by helping drivers like you to understand the various symbols found on your tires. These symbols represent dimensions, air pressures, and other measures that help you to match the proper tires with your vehicle.
There are usually at least eight such markings on most passenger vehicle tires, and they include various letters and numbers. Examples of these letters and numbers include "P" for pressure, Z" for the tire speed rating, and "R" for tire construction style.
Common tire markings also include numbers that denote various tire dimensions and capacities. Here at our dealership, we'd be happy to help you to understand these numbers in greater detail. Contact us today to see how we can improve your knowledge of tire design.